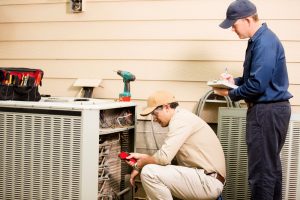 If you're a resident here, then we know that you probably love living in Orland Park. But it's just difficult trying to stay cool and dry when we're in the full heat of summer. Although we understand this because we're locals too, we're also air conditioning professionals, so we can help you get the service that you need.
Make sure that you come to us for your air conditioning services in Orland Park, IL. We're going to be the ones who make sure that your air conditioner is ready inside and out and prepared to handle not only this summer, but every summer ahead. Call us. You won't regret choosing us for your service.
How to Perfect Your Air Conditioner
Here are a few ways that you can keep your air conditioner in great shape this spring and summer.
Start Off with a Maintenance Appointment
The first thing you need to do this season is start off with a maintenance appointment. Maintenance is like the warm-up for your air conditioning system and the summer ahead is the marathon. Would you sign up to run a marathon without the proper gear, shoes, and training before the day arrived? We'd like to think you wouldn't. It just wouldn't be a wise decision. You need to have this same idea for your air conditioning system too. Schedule an appointment with us to keep your system in great shape.
Pay Attention
Make sure that you're paying attention to your air conditioning system this summer. We know that this seems like something that you'd do anyway, but we're talking about paying attention to all the subtle signs of air conditioning problems that you want to just brush off and take care of at the end of the summer. We understand why you'd do this, but it's always better to take note of the problems sooner rather than later and handle them as soon as possible. If you need quick help, we're the team to call.
Don't Procrastinate
Make sure that you're not procrastinating on your home. We touched on this above in our last point, but we really want to drive it home—don't wait to address the problems that you're having with your air conditioning system. You don't want to wait to address the problems that you're having with your air conditioner. It's going to lead to bigger problems down the line. We'll make sure that nothing in your home is a hassle. Call us today.
Consider an Upgrade
If you've had your thermostat or even your air conditioner for more than 10 years, you're going to need to schedule an appointment with our team members. It might be time for you to upgrade your air conditioning system. Sometimes you're not getting the best service that you could possibly get with the current technology that you've got at home. We're going to help you get everything you need to stay cool.
Contact Johansen & Anderson Inc today to schedule an appointment with our professional AC techs. We'll make your summer cool. Call J&A today, sleep tight tonight.