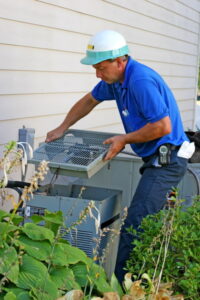 The compressor is the single most expensive component of your air conditioning system, and you do not want to ever have to replace it. Often, when a compressor fails completely, it's a better investment to replace the entire AC system than to get a new compressor.
Your air conditioner has both an indoor unit, or evaporator, and an outdoor unit, or condenser. The compressor is located in the condenser unit and it does the critical job of pressurizing the refrigerant to keep it flowing through the system, taking in heat from your home in the evaporator coils and releasing it from the condenser coils.
So how do you protect your compressor and keep your air conditioner running for as long as possible? Know how to catch problems early! Here are some tips.