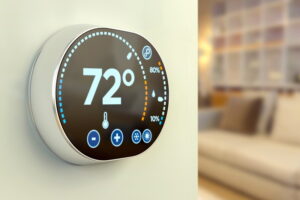 If someone asked you what the most important part of your air conditioner is when it comes to cooling power, what would be your answer? We'd guess that it would be one of the main parts of your home's air conditioning system—something like the condenser or compressor. While we understand how you would come to this sort of conclusion, we want you to make sure that you consider your thermostat as well.
Your HVAC in Shorewood, IL, is contingent upon your thermostat services. If you want high-quality and low-cost air conditioning services this winter, then you should consider a thermostat upgrade. We're here to help you through this process.
What a New Thermostat Can Do for You
Our title got you here and now you're wondering how a new thermostat can keep you cool. A new thermostat helps with this in a multitude of ways. Here are a few:
Better Cooling and Heating
Smart and Wi-Fi thermostats are great because they lead to better heating and cooling. This is because you won't have to do any guesswork.
Have you ever had those questions like: "What's the best thermostat setting to use for the highest efficiency?" or "should I program my thermostat?" These questions are answered for you with a Wi-Fi or smart thermostat. With smart thermostats in particular, you can allow your unit to handle auto-adjustments. This takes all the potential human error out of the process and aligns you with the highest quality service possible.
Lower Energy Bills
New thermostats (smart and Wi-Fi units) are more energy efficient than any current model you might have. If you're looking for lower energy bills throughout the year, starting with your thermostat is a fantastic idea.
Your thermostat is the brain of your home's HVAC system. If you have the most precise control possible, you're going to reduce the amount of error going on with your HVAC system. This reflects in a reduction in your energy bills.
Ease of Use
We've all had those days where we find ourselves working around our thermostat. Your scenario might be mild. It could be as simple as you lying cozy in bed on a cold winter morning and making the cold dash to your thermostat to start heating up the house. Or it could really be a little more difficult and it could leave you uncomfortable. You might have one of those summer days where you're waiting around hot and sweaty because you have to wait for your home to cool off.
Smart and Wi-Fi thermostats allow you to program these units from your phone. This means you can turn on your AC unit from your bed, from your car before you even get into the house, or even from the office. Your thermostat is always in hand with this type of unit.
If the idea of an upgrade sounds good to you, then we suggest that you get the process started soon. Getting a new thermostat now will make sure that your unit is primed for summer.
Contact Johansen & Anderson Inc. today for your thermostat services. Call J&A today, sleep-tight tonight.