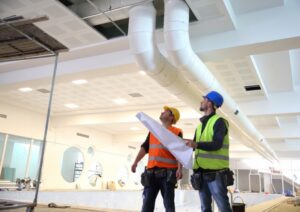 Owning a building, commercial property, or business is a lot of pressure. Any time something goes wrong, the responsibility for it is entirely on your shoulders. When you're pressed for time or money and you have tenants or employees making urgent complaints about being too hot or too cold, it's tempting to take shortcuts.
Should you attempt to DIY a repair on your commercial HVAC system, or hire a general property manager or handyperson to do the work? Your repairs need to be done by a qualified HVAC technician, and not one who only has residential experience. You need a commercial HVAC expert. Here's why.
Warranty Compliance
The last thing you want to do with a very expensive system is to void your warranty. Keeping your system under warranty can help you avoid some major expenses. The manufacturer may cover some replacement parts or repair costs. If something really unexpected goes badly wrong, and the system needs an early replacement, it may be the manufacturer's responsibility.
But to keep your system under warranty, there are some conditions. You can consult your warranty agreement for specifics, but generally, annual maintenance is required, and both that and any repairs must be done by licensed technicians.
System Complexity
Commercial HVAC systems are not simply larger versions of residential ones. The HVAC units themselves are different, and the systems of ductwork and drainage lines are much more complex. A technician with training and experience working with these types of systems will be much better prepared to diagnose and address any issues your system is experiencing.
Working in a Professional Environment
It's not just the HVAC systems themselves that are different in a commercial setting. The building, and in particular the needs of the people using that building, are different. Commercial HVAC technicians have training and expertise in minimizing their impact on tenants or employees and avoiding disruptions to workflow and business functionality.
Their knowledge of these systems streamlines the process of maintenance and repair. This further reduces the amount of time needed to accomplish these tasks, thus reducing the impact on the people in your building. Repairs will be completed more quickly, and your HVAC system will be up and running—and your tenants or employees will be happy again—with minimal inconvenience.
Reliable Partnership
When you choose one commercial HVAC contractor to partner with you in the care of your system, you'll have additional benefits. You'll know exactly who to call when something goes wrong. Your technician will already know your building and your system, and will have access to records of past repairs, which can help to pinpoint current issues.
Johansen & Anderson has been serving Will and Grundy counties since 1946, so when you choose our service, you know you'll be able to rely on us for the future: not just years, but decades. We pride ourselves on our 24/7 service and quick responses, which are ideal for commercial needs.
Whether you need commercial HVAC maintenance or commercial AC repair in Lockwood, IL, you'll know we've got you covered.

Call J&A today, Sleep-tight tonight!