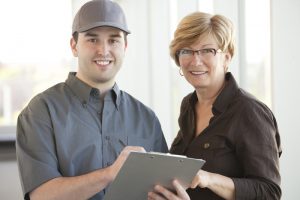 Winter here in Illinois means that you're firing up your furnace more than ever. While today's furnaces are amazing at keeping our homes both warm and safe, there are risks with any appliance in your home that burns fuel. Any problems that your furnace might have should always be addressed promptly and through the service of a professional in your home. Upkeep from a team like ours helps make sure that your furnace is always running in the best condition possible. If you need great HVAC services in Orland Park, IL then contact our team. If you want to know how to keep your home safe and warm all winter long, keep reading below.
Keep the Area Around Your Furnace Clear
When you're trying to boost the efficiency of your furnace, you need to start with the basics. Make sure that you keep the area around the furnace clear. When our team services systems, we see a lot of homeowners who allow their belongings to clutter near the furnace. This is a major fire hazard and potentially a deterrent to the efficacy of the furnace.
Test Your Carbon Monoxide Detectors
When you think of a safety risk to your furnace system, the biggest danger is from a carbon monoxide leak. That's why it's incredibly important to test the carbon monoxide detectors in your home before the winter season.
Test Your Smoke Alarms
Your furnace is a system that may be a fire hazard if you have a major malfunction with this system in your home. You should always have your smoke alarms up to date so that you're prepared in case of an emergency. Test your alarms and make sure that you have fresh batteries in each one!
Schedule Annual Maintenance
Scheduling annual maintenance services with a professional is the best way to keep your system healthy and happy. We know many homeowners are emboldened by the DIY resources that they can find online, but a professional education can never be substituted by a YouTube video or any article you found online. Trust a professional backed by education, licensing, and experience so that your furnace will always be able to run well.
Here at Johansen & Anderson, we have a membership program so that you'll never forget to schedule services for the upcoming season. We offer two tiers of enrollment (Gold and Platinum) which include priority service calls, $25 in annual equipment credit, automatic regular inspections, and a convenient reminder call.
Got a Problem? Call Our Team
If you ever think you have a problem with your heating system, make sure to call our team to have a professional assess the furnace as soon as possible. When it comes to safety for your HVAC system, timing is of the utmost importance, you need to remain proactive rather than reactive. Our team members are always prepared to help keep your home fortified against any potential dangers.
If you need great HVAC services in Orland Park, ILm call Johansen & Anderson Inc. to schedule an appointment.