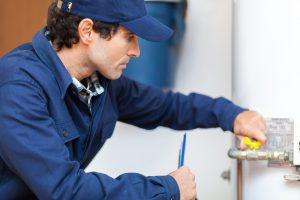 Now that it's winter here in Frankfort, you're probably running your heater all the time to keep your home comfortable. Sometimes inconsistencies and problems arise when you start to run the heater so often and you may notice that your furnace is making some odd sounds during the winter. But what could these sounds mean? It's hard to determine what the sounds your furnace is making mean without the aid of a professional with the right experience. If you're hearing concerning sounds, then you should seek out furnace repair in Frankfort, IL. If you'd like to know the cause of the odd noises that your furnace makes, then keep reading below.
Sounds and Their Meanings
So, your furnace is talking, but what is it saying? Here's how to find out.
A Loud Thud Upon Start-Up: One common bad furnace operation sound is a loud booming or thud when the system starts up. Booming or thudding sounds aren't all that uncommon in furnace systems because this can happen when the ducts either expand or contract during really cold temperatures. But if the sound is notable upon startup then it's more than likely a problem with dirty burners or a buildup of gas from delayed ignition.
Rumbling: Hearing an ominous rumbling noise when you start your furnace? A rumbling sound is likely the effect of an excess amount of build-up or grime on your heating elements. When grime, dirt, or dust builds up within your heating system it strains its ability to function and can even lead to serious mechanical problems. Routine maintenance can help you avoid these problems in the future.
Grinding: Hearing a weird, low grinding sound when you turn on your heater? Your furnace has a component called an air handler. This part is responsible for circulating air throughout your home while the system is on. The air handler is normally oiled well so that friction from its operation is as minimal as possible but sometimes it gets worn down after a lot of use. The more worn out the bearings become, the more friction there is on the air handler. This sometimes causes a grinding sound in the system.
Screeching: You might be able to placate yourself and drown out the sound of rumbling, grinding, or even loud thudding upon start up, but if you're experiencing screeching, it's very hard to ignore. A screeching sound is most likely indicative of a problem with your motor or fan belt in your home. It's likely worn out and malfunctioning, causing this loud and alarming noise. This problem is generally an easy fix, but you need to contact a professional sooner rather than later for service.
Have Us Handle Your Furnace Problems
When you need great furnace repairs to keep your system efficient, operative, and quiet, make sure that you contact our team. We've been in business satisfying our customers in Joliet and the surrounding area since 1946.
If you need quality service for your furnace, contact Johansen & Anderson Inc. today to schedule an appointment.