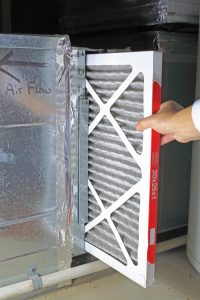 Of course, major heating repairs are not something we recommend for the average homeowner as a do-it-yourself project. Repairing a furnace is not easy. We know because our technicians train for years to continue to learn the latest techniques for heating repair—their training is never complete! No single online guide or manual could prepare someone to properly diagnose and repair such a complex system.
Still, there are many times we show up for heating repairs, only to find that the problem could have been resolved by the homeowner. Could it be a simple fix? If you're heater is broken down completely or just not functioning properly, try the following. You may just prevent a call to a heating technician.
Check the Circuit Breaker/Fuse Box
Your heating system may have tripped a circuit—or blown a fuse, if you have an older fuse box. It's important to know where this is and to have circuits/fuses labeled so that you can find them quickly. In the future, you may need to make your own guide to find out what switch or outlet each circuit breaker in the panel leads to. Try resetting the circuit breaker or replacing the fuse that leads to the furnace.
Try the Thermostat
We know this isn't what you want to hear. Chances are, you already took a look at the thermostat once or twice. If the display on a digital thermostat is not working at all, you may need a new set of batteries. Or, it could be that the thermostat needs replacement (although this is rarely the case and a broken furnace typically has a different cause).
However, there may be something you missed. For example, try checking for the words "fan only." This is a setting that should be used rarely, and certainly not when you want heat to circulate. Make sure no one has switched a lever on the side from "heat" to "cool." And, check that the automatic settings don't indicate lowered settings for a building that is unoccupied.
Change the Filter
If your heater just doesn't seem to be working properly, or if it turns on and off repeatedly, you may simply need to change the filter. This may be confusing to some—doesn't a filter just clean the air? It does, and helps protect the furnace from damage as well, but if you
Consider the Gas Meter
Often, when people move here from a warm climate, we find out that they didn't know how important it was to turn on the gas upon moving in! You may have missed a payment to the gas company, or a new homeowner might not have turned the gas service on at all. It's also possible that the gas company has made a mistake, so you may need to give them a call. You can tell if other gas appliances in the home are not working as well. But remember, if you smell gas leaking, it's time to vacate the home.
Johansen & Anderson Inc has NATE-certified technicians available for heating repair in Joliet. "Call J&A today. Sleep-tight tonight!"