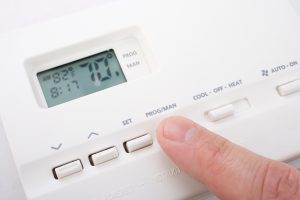 Just because it's winter and you need to use your heater doesn't mean that you need to run the system into the ground. It's fine if you're using your heater more than you usually would now. This is to be expected after all, since it's so cold here during this time of year. What we want to make you aware of is that there's a fine line between running your heater often and running your heater irresponsibly. You might not think of turning on your heater as something that can be defined as "right" or "wrong," and it really isn't this black and white. But there are some best practices for you to keep in mind.
We're going to give you all the knowledge you need to avoid furnace repair in Bolingbrook, IL. But if you do find that you're a little past the point of putting these tips to use, you can get in touch with us for the service you need.
A Few Helpful Heater Tips for This Winter
Here are a few simple things that you can do to give your heater a helping hand this winter:
Get Your Ceiling Fan in on the Action
Your ceiling fan isn't just useful to you in the summer—it can also be an ally to your home in winter. We meet so many homeowners who are surprised by this, but it makes a lot of sense. Think about it: you know that heat rises and, most of the time, the room registers are toward the top of the walls. This means that heat flows out into the rooms and then clusters toward the ceilings. Using your ceiling fan (in a reverse setting) can help push the warm air moving out into your home downward where it can actually heat you up.
Make Sure You Schedule Maintenance
Did you schedule a maintenance appointment for your heating system this winter? If you haven't scheduled one this year, it's not too late to do so. Maintenance is a vital service for your heating system. Trust us when we say that it's important. Professional maintenance is an opportunity for a trained and certified technician to take a close peek into your system, point out any potential problems, and then create a plan of action. We're going to make sure that any problems bubbling up beneath the surface are stomped out before you even notice them.
Set Your Thermostat a Little Lower
We know what you're probably thinking after reading this heading, "Set the thermostat … lower? They're crazy!"
We know that setting your thermostat to a lower setting in winter can seem a bit counter-intuitive, but trust us, it's going to save you a substantial amount of energy and money as a result. You don't have to go without the heating you need in the day but try setting your thermostat to a lower temperature at night while you're sleeping.
Contact Johansen & Anderson Inc to schedule an appointment with our professionals. Call J&A today, sleep-tight tonight.