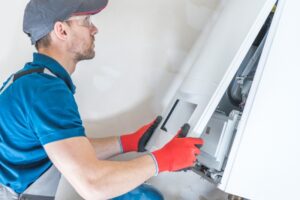 You might still be trying to squeeze in some last summer fun, enjoying the warm days, and even still running your air conditioner on occasion. After all, it's barely autumn yet. But even if you don't want to think about it yet, winter will come, and you don't want to be caught unprepared when it does.
Scheduling a fall inspection for your furnace can mean the difference between a cozy home as soon as you need it and a shivering wait for emergency repairs. There are several reasons to schedule furnace maintenance in New Lenox, IL right away, even if you are still wearing sandals and sunscreen.
Avoid Emergency Repairs
In addition to leaving you cold until technicians sort out your problem, emergency repairs can be much more costly than regular maintenance. Finding any underlying problems now can give you the time to schedule repairs at your leisure, and get everything shipshape before the cold weather sets in.
Reduce Your Energy Bills
A heating system that is in top-notch repair will use less energy than one that is just managing to function after being neglected. That reduction in energy can translate to a significant reduction in your heating bills, and of course, it is better for the environment.
Extend the Life of Your Furnace
With regular maintenance, your furnace will last longer. No one wants the cost and hassle of replacing a heater sooner than expected, especially if that happens during the winter and leaves you unable to heat your home until your new heater is installed.
Keep Your Furnace Under Warranty
If your furnace is new, it may be under warranty. Maybe that makes it seem like you don't need to worry about taking care of it yet—after all, repairs will be covered if you need them, right? Well, not necessarily. Many warranty plans are voided if you don't get annual maintenance. Your fall inspection just might save you from finding out too late that your furnace is no longer under warranty.
Plan Ahead and Save
At Johansen & Anderson, we understand that home ownership and its related costs can be overwhelming. One way that you can reduce your stress is by having a trusted partner in the care of your HVAC systems. As your partner, we want to help you keep your home comfortable and your costs under control. With our residential maintenance program, you can ensure that your HVAC system is in the best possible condition while saving money. Members have priority customer status for repairs, and earn credit toward an eventual system replacement. You can even get discounts on repairs and other benefits!
For more information about the residential maintenance program, fall furnace inspection, or anything else related to the care of your HVAC system, reach out to our friendly, helpful staff. We're always happy to help a valued customer find the plan that best fits their home and their needs.
Call J&A today, Sleep-tight tonight!