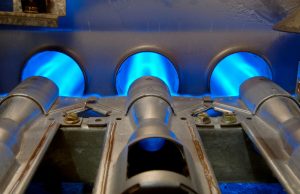 Some furnace problems are just minor inconveniences while others are big problems that can threaten your health. One of the bigger problems that your furnace can have is a crack in your heat exchanger. If you're like the majority of homeowners, then you might not even know what a heat exchanger is, that's why we're here. If you're not sure what your heat exchanger does, how it affects your home, or what you should look out for, then read the post below. If you'd like furnace repair in Orland Park, IL that you know is top-notch at a reasonable price then make sure you contact our team.
How to Tell If You Have a Cracked Heat Exchanger
Here are a few big signs that the heat exchanger in your furnace has a crack.
Changes in the Flame Color
The longer you have your furnace in your home, the more you might notice signs that your heat exchanger is failing. It's a really good idea to periodically check the flame in your burner so that you can see if there are any major issues before it results in furnace failure. If everything is going alright with your heating system, the only thing that you should see is a steady, blue flame. If the flame is yellow or orange in color or it jumps or dances then you're probably suffering from a heat exchanger crack.
Your Carbon Monoxide Detector Goes Off Often
Notice that your carbon monoxide detector has gone off recently? You might think it's just a fluke, but if this system goes off in your home, make sure that you exit your home and call your utility company. When it comes to something as deadly and dangerous as carbon monoxide, it's much better to be safe than sorry.
Build-Up of Soot
When you have a heat exchanger crack, you'll notice that it causes problems with the efficacy of your combustion system. You'll see a black sooty residue accumulating on the internal workings of your furnace system or on the heat exchanger itself. If you see this happen, call a professional furnace technician as soon as possible.
Signs of Corrosion
Alongside soot, there are other outward signs of corrosion that your heating system can show, like rust or corrosion. Corrosion is a big sign that your heating system is greatly compromised.
How This Affects You
Your heat exchanger is one of the most important parts of your furnace. Without a properly functioning heat exchanger, your furnace can pose a threat to your home. Carbon monoxide is a dangerous gas in your heater that you never want to remain in your home. This colorless, odorless, and tasteless gas can cause you or your family members to become sick, fatigued, or even result in death in extreme cases. If you notice any of the signs above, make sure that you contact a professional from our team for service.
If you let your furnace troubles get out of hand, it can adversely affect the quality of your home and the health of your family—make sure that you contact Johansen & Anderson Inc when you need service. Our technicians are trained, reliable, and knowledgeable.