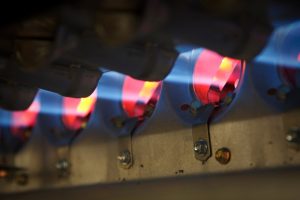 If you're like the vast majority of homeowners here, then we know you're relying on a furnace for your heating. We're not here today to bash your furnace system. We stand by furnaces and think they're an amazing way to heat a home. Although furnaces are a reliable heating method, it doesn't mean that they're foolproof. If you're noticing problems with your heating system, then it might be time for you to call our professionals for heating repair in Orland Park, IL.
Your heating repair is important. You need to make sure that you have the best professionals possible for the work that you need. A heating repair system is going to help you save energy, lower your heating costs, and help your heater last long into the future. Make sure that you schedule an appointment with the professionals on our team.
So … What Is a Heat Exchanger?
Let's start from the beginning and explain exactly what a heat exchanger is. A heat exchanger is the device in your home's heating system that allows heat from a liquid or gas medium to pass to another liquid or gas without the two fluids having to mix together or come into a direct contact.
Did we lose you there?
We don't really have to get into the scientific technicalities. All you need to know that a heat exchanger transfers the heat without transferring the medium that carries the heat.
The Dangers of a Faulty Heat Exchanger
So now let's get into the importance of a heat exchanger. Hands down, the heat exchanger is one of the most important aspects of your home's heating system. If this heat exchanger starts to go south, your furnace can become a major danger to both you and your family.
The thing about a cracked heat exchanger is that it will start to emit carbon monoxide. As you probably know, carbon monoxide is one of the most dangerous gases you can have in your home because it's colorless, odorless, flavorless, and has a myriad of side effects that can cause you and your family members a lot of bodily harm. In most cases, the heat exchanger must be replaced.
When to Call Us
So when should you call us for service to replace a damaged heat exchanger?
Not all homeowners are sure when they should pick up the phone to get service for their heat exchanger. We understand this type of confusion and that's why we're here to give you a quick crash course in the signs of heat exchanger trouble. It's important to call the professionals on our team when you notice the following signs of heater failure:
You notice odd smells
You see soot on the inside of your furnace
Your furnace's flame isn't blue—it's yellow, red, or orange
You see signs of corrosion or cracking on the furnace
You should sidestep any of these signs of furnace trouble. Shut off the furnace and call our professionals right away to schedule an appointment.
Contact Johansen & Anderson Inc today to schedule an appointment with our professionals. Call J&A today, sleep-tight tonight.