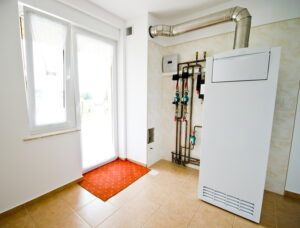 There are many options for how to heat your home these days. Forced air heat can be provided by a furnace that uses gas, propane, heating oil, or electricity to heat air that's conducted through the same ductwork your central air conditioner uses. Heat pumps can warm your home, not by generating heat but by transferring it from one place to another.
It might seem like boilers are a very old-fashioned way to heat a home, and you might imagine ornate, antique radiators when you think of them. Modern boilers are not quite the same as the old-fashioned ones, and they're still a popular choice for home heating. Here's why.
Comfort
Boilers are great at keeping your home evenly heated, and they work quickly to raise the temperature when you turn them on. They also don't have some of the problems associated with forced air heat, like drying the air too much and causing mild dry skin and eyes.
Quiet
By circulating hot water through pipes—in radiators or registers or under the floors—boilers have no need for noisy fans and can keep your home warm without making much noise at all.
Fewer Repairs
Compared to other heating options, boilers are less likely to encounter problems that require repairs. This means more time spent enjoying your cozy home and less time scrambling to find someone to fix your heating system and waiting in a chilly house until they do. It also means you won't be spending as much money on frequent repairs.
Efficiency
Generally, boilers consume less fuel than gas-burning furnaces. And a new boiler will be more efficient than an older boiler. This means spending less money when your energy bills arrive, not to mention reducing your carbon footprint and doing some good for the environment.
Lifespan
The average life expectancy of a gas furnace, provided it receives annual maintenance, is only about 10-15 years. Electric furnaces typically keep running a bit longer. But boilers are by far the longest-living heating option. Though modern boilers will almost certainly not survive for fifty years the way old boilers once did, they can often keep running for thirty! (They're also smaller and lighter than their ancestors, which were hulking monstrosities made from cast iron.)
Boiler Concerns
Some people have heard urban legends about exploding boilers. Don't worry! This is a relic of antique boilers. There's a big difference these days. In the past, boilers actually boiled. It was not hot water but in fact steam that was forced through the radiators. Today's boilers keep the water between 140 and 150 degrees Fahrenheit, so technically, they don't actually boil at all. This is much safer and keeps the contents of the system at a much lower pressure.
Sometimes, people are afraid that their boiler will explode because they hear a rumbling sound like an enormous teakettle. Never fear, this is easily resolved. The culprit is generally a layer of sediment at the bottom of the boiler, and as the water pushes through it, an alarming sound can be heard. Repairing the problem is as simple as flushing the system to wash the sediment out.
To learn more about boilers or other home heating options, or if you need boiler repair in Lockport, IL, don't hesitate to reach out.

Call J&A today, Sleep-tight tonight!