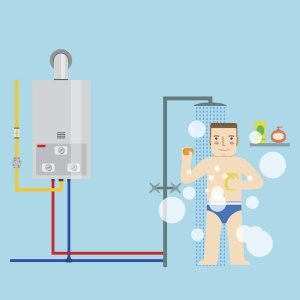 Have you noticed that your water heater isn't working like it used to? This can be frustrating especially in winter. There's nothing better than starting or ending your day with a hot, steaming shower this on a cold winter day. Especially now that we're experiencing these truly frigid temperatures in the Midwest. It's not as great when you're having water heater trouble that makes your water lukewarm throughout your home. You tend to rely on your hot water heater more during these winter months, so more of these small and frustrating inconsistencies arise.
If you have a big water heater problem on your hands and think you need water heater repair in Plainfield, IL make sure that you contact our team. We ensure that our technicians are NATE-certified and trained on a continuous basis so they're always up to date with the latest in HVAC.
Common Water Heater Problems and Their Causes
Here are a few common water heater problems and the things that cause them.
Not Enough Hot Water
Do you find yourself lathering up in a hot shower and then, to your dismay, you're hit with a stream of cold water? This happens because you're lacking the proper amount of hot water in your water heater system. When you're going without hot water, it's typically because your water heater's capacity has greatly declined. A number of things can cause this: sediment build-up inside your tank or even a broken dip tube. You need a professional to assess this system and decide if you have enough hot water for your home.
Discolored Water
Notice that some of the water pouring out of your faucets has an odd hue to it? It's more than likely due to a sediment or mineral build-up inside the water heater. This is a common cause of several water heater problems. If you have a tank water heater system in your home, it's important to have this water heater system "flushed" so that any sediment sitting at the bottom of your tank doesn't circulate through the water supply in your home.
Low Water Pressure
Is every water source in your home emitting a frustrating trickle? When you get in the shower and turn the water on or wash your hands, you want a strong and steady stream of water, not a little trickle. Poor water pressure means that you either have build-up in your pipes or in your actual tank. In either scenario, the build-up is blocking the water flow into and out of the hot water heater and you're not receiving the full quality of your hot water.
Call Johansen & Anderson Today
If there are two things you don't want to go without this winter it's your heater and your hot water—the temperatures are just too cold to take lukewarm showers. If you want to make sure that you're getting the best possible hot water quality from your heater then contact a professional technician from our team today.