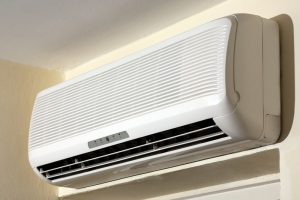 For homes without central heating and air ducts, there are solutions. Of course, you can use ceiling fans, but this will not really cool a room. Eventually, homes with few other options turn to the local stores to find window air conditioning units. For those who don't want to block the windows, room air conditioners can fit into the side of the house, or portable air conditioners stay on the floor with a duct through the window.
But these types of systems have their flaws—big ones. They simply are not held up to the same standards as central air conditioners, and over the years, it shows. Ductless mini splits are different: highly efficient, high-performance, and long-lasting.
The Trouble with Point-of-Use AC
Those other systems you use to cool a ductless home—portable air conditioners, window units, and room air conditioners—cause a lot of trouble. At first, it's a relief to have some way to cool down an entire room where there was no AC before. But with time, you start to notice drops in the level of performance you expect.
These systems are engineered with many of the same parts in a standard split system AC, but all of the components have to fit in a single little box. Because of this, they cannot hold up to the same efficiency standards as larger air conditioners, and are not expected to.
You end up paying more on your energy bills than with a central air conditioner.
The air conditioner is likely to break after only a few seasons of use.
You probably will notice swings in comfort over the course of a season, as it's not properly sized for the room.
What a Ductless Setup Looks Like
A ductless mini split is a central air conditioner (or single-room air conditioner) that doesn't require ductwork. The photo above shows what the indoor unit of a ductless system may look like in a home.
Several of these indoor blower units are mounted in various rooms of the home and given their own thermostat, as well as hooking up to a central thermostat. The outdoor condenser unit (as with a standard split system) connects to the indoor blowers via a refrigerant line.
Why Ductless Works Better
Ductless air conditioning is the better option because it is designed to fit your home. Ductless mini split comfort systems must be installed by professional technicians, and it is an investment. But from there on, it operates just like central AC.
It's just as efficient, or more so in many cases, so you can expect low bills. And since the air conditioner is actually sized to fit your home, it should perform as you need it to for many years to come (with proper maintenance).
Additional Perks of Ductless Systems
Owning a ductless system has its perks!
The indoor blower units are mounted high up on the wall, away from your décor, and they are not noisy like window units.
You can vary the temperature in different rooms throughout the home.
The only renovation involved is a small hole drilled in the wall to feed through the refrigerant line.
You get heating and cooling in one!
For more information about ductless mini splits in Lockport, IL, contact Johansen & Anderson Inc.