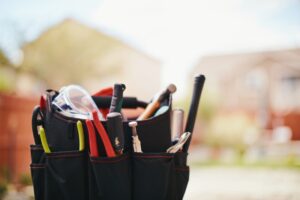 If you know anything about air conditioning tune-ups, then you know that they're best performed in the springtime. Although you might be a little behind the curve, you're still ahead of the height of the summer. You might have had some troubles with your air conditioner recently and you want to call to schedule an appointment for an air conditioning tune-up. We think this is a great idea … but we're getting to that time of year where AC maintenance might not cut it.
There's a thin line between air conditioning maintenance and air conditioning repair services. If you need AC maintenance or AC repair in Lockport, IL, then we're prepared to help you with the service that you need. We can help you with either.
Figuring Out What You Need
Here are some things you should consider to determine whether you need an air conditioning tune-up or air conditioning repair.
AC Maintenance Should Cover It
These are problems that can be handled by an air conditioning tune-up:
Squeaky Parts: If you're noticing some minor squeaking going on with your air conditioner, then air conditioning maintenance should do you well. Squeaky parts are really just parts that really just need a little lubrication. If you hear this coming from your outdoor unit, then maintenance can handle this. If you hear more squeaking, then you should spring for air conditioning repair services.
Low Airflow: Have you noticed that your HVAC's airflow has mildly decreased? If the airflow decrease is just a minor drop off, then maintenance might cover your needs. Low airflow can be greatly improved by a simple filter change and a little recalibration from a professional. Low airflow isn't something that you should ignore because it can get worse with time.
You Need to Go for AC Repair
These are problems that you're going to need air conditioning repair for.
High Energy Bills: High energy bills are bad news if you can't explain why they're happening. If you've noticed that your energy bills are getting out of hand and you can't figure out why, then your efficiency is to blame. If you ignore this, it's only going to get worse with time and you'll pay more as the summer drags along.
Strange Sounds: There are some strange sounds that you might hear coming from your air conditioner if things are going south. The strange sounds include banging, rattling, scraping, and more. Any sound that you hear is an issue because it denotes a problem deep within your air conditioning system. Our air conditioning professionals will lend you a listening ear and figure out what's going on with your AC system.
Foul Odors: The odors floating through your home when you turn on your air conditioner are … unpleasant—and that's putting it nicely. If you're noticing persistent foul odors, you're absolutely going to need a professional to handle these issues and we're the team that can do it for you.
Contact Johansen & Anderson, Inc. for your AC maintenance. Call J&A today, sleep-tight tonight.