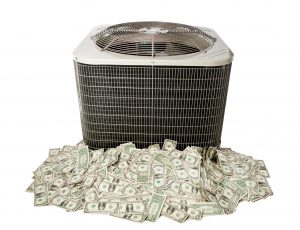 Do you feel ready for the warm weather ahead? You might not have your summer wardrobe all picked out, but when you join a maintenance program, your home air conditioning system is all set.
We recommend air conditioning maintenance once a year, no matter how old a comfort system is, in order to maintain the efficiency and performance of an AC unit. And the easiest way to schedule this service is by joining an AC maintenance program. Learn about how this works and how it helps you save below, and call our team to learn more about our maintenance program in Lockport, IL.
How AC Maintenance Benefits You
One of the primary reasons many homeowners are not on a maintenance plan from a local technician? They don't realize how much it helps their homes and their budgets! Air conditioners and heaters alike simply run better when they are professionally tuned.
Tune-ups improve efficiency, saving you money each month.
Inspections help prevent major repairs and catch small ones early.
Systems that receive regular maintenance may last longer!
When you have an air conditioner maintained each year, you gain peace of mind. With lower chances of an AC breakdown, lower bills, and better cooling, you can feel better about running the air conditioner to your liking. It's best to schedule this service in the spring, but it's easy to forget!
You'll Never Forget Maintenance Again
Joining an air conditioning maintenance program from a local HVAC contractor allows you to avoid forgetting to schedule this valuable service ever again. What you get depends on what contractor you sign up with, but a plan often includes 1-2 maintenance services per year for your air conditioner and heating system—and more!
How does it work? You agree to pay a monthly or annual fee for maintenance service. In exchange for your business, your contractor may offer a number of benefits for signing up, and you should get reminders for service when spring and fall come around.
Our Maintenance Programs
At Johansen & Anderson Inc, we are committed to proving excellent customer service, which is why our maintenance plan members love being part of our program. When you sign up, you get annual comfort system inspections for savings and peace of mind. But our comfort plans offer a whole lot more.
We offer two different levels of service depending on your needs and budget. With any plan, you get…
Reminders for maintenance visits
Preferred priority customer status
Accrued credit toward a future system replacement
But the details vary based on which level of service you choose: Gold or Platinum.
Gold Membership
15% discount on repairs throughout the year
$25 annual equipment credit (for a total of up to $250)
Platinum Membership
15% discount on parts and repairs with all service included and all parts included (some exclusions apply)
$50 annual equipment credit (Up to $250)
Most importantly, you get our award-winning customer service, and the expertise of technicians with the right training and experience for the job. We are a local name you can trust, in business since 1946.
Johansen & Anderson Inc offers air conditioning maintenance services in Lockport, IL. Ask about our maintenance program, and start saving today!