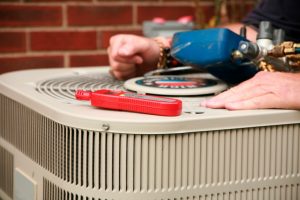 Warmer weather is ahead, and that means it's almost time to start up the air conditioner. Before you do, it's always a good idea to call in an air conditioning technician to have a look at your AC system. This means more than a simple checkup. A quality technician will perform a thorough inspection and tune-up that protects your unit.
Today, we're going to tell you all the ways an AC tune-up benefits you. Throughout the spring and summer months, you can expect to…
Save money
Feel more comfortable
Reduce the chances of air conditioning breakdowns
Start AC Service as Early As Possible
We recommend that you schedule service to get your air conditioner ready as soon as you can. Don't wait until a suddenly hot and humid day forces you to run your air conditioner all day—and a surprise breakdown leaves you without any source of whole-home comfort.
Perhaps the most important benefit of an air conditioning system tune-up is that it prevents you from having to schedule sudden repairs. Your air conditioner needs the occasional adjustment to run smoothly. Screws and electrical connections can come loose over time, the system develops dirt, and parts fail before the system lifespan is through.
An AC tune-up includes a complete tune-up, during which a technician should clean off the coils, check the filter, inspect connections, test voltage, and make sure the unit is running smoothly. If anything else needs repair, you will be notified of the issue so you can schedule an appointment for a later date or time (or get started right away, depending on availability). The chances of a system breakdown in the summer, when you really need AC, are significantly reduced.
How AC Maintenance Helps You Save Big
Air conditioning maintenance is an important service for many reasons. One unexpected benefit, for many homeowners, is just how much it helps them save. You cut monthly costs, repair costs, and even the timing of AC replacement, all by scheduling this simple, quick service at the beginning of spring (each year, for best results).
Get repairs out of the way. When an issue within an AC unit is allowed to go on for too long, it has a chance to get worse. Something that may have cost you $100 to fix last year may cost you $500 today, as the repair has worsened and additional components have had time to wear out from the strain on the system. With air conditioner maintenance, you get repairs out of the way, on your time, when the cost is lowest.
Save on monthly bills. You can also save on your monthly air conditioning bills, since an adjustment and cleaning of your AC unit helps it to run more smoothly (as can any recommendations made by your technician you choose to follow through with). A system in better condition requires less energy to run.
Extend system lifespan. Your air conditioner could potentially last for longer if it has regular maintenance to reduce standard wear and tear on the system.
Contact Johansen & Anderson Inc for an AC tune-up in Joliet, IL.