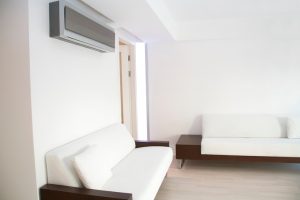 We get excited about air conditioning. It's our bread and butter, after all, and something we've studied and trained to know all about. We understand that others may not get so excited about all the nuts and bolts, but there is something we can all be grateful for: today's air conditioners work better than ever before. They last longer, cool better, and use less energy than ever before—especially if you have the right air conditioner for your home.
If you're looking into a new air conditioning installation, it's important to find one that matches the needs of your home, family, and budget. And we're here to help! Call our trained technicians for more information about all of the options you should know about when you're picking out a new air conditioner.
The High-Efficiency Air Conditioner
Air conditioners are more efficient than ever before. That means they are able to cool a home to the given setting on the thermostat faster without having to use so much energy! Your bills lower and you have a positive impact on the environment when you pick out a more efficient central AC system. We recommend looking for these features.
An air conditioner with the ENERGY STAR seal.
A SEER (seasonal energy efficiency ratio) rating of 15 or higher.
A variable-speed or dual-speed blower motor.
The Heat Pump
Air conditioners don't create "cooling;" they remove heat. The refrigerant pumping throughout your air conditioner absorbs heat from your home's air and moves it outdoors, in a sense. A heat pump works the same way, and also in reverse. It can absorb heat from the air outdoors—even in very cold temperatures—and move it inside for heating in colder weather.
What makes this an excellent option for your new AC installation? Aside from the dual function, heat pumps are highly efficient. Moving heat is a more efficient process than generating heat, meaning you might save money over other electric heating options—and you save on cooling with a high-efficiency heat pump as well.
The Ductless Mini Split
Ductless mini splits, or ductless heating and cooling systems, are also heat pumps—but with a twist. Typically, you need a set of ductwork in your home to distribute warm or cool air throughout the house. Otherwise, many homeowners choose window air conditioners or room air conditioners, but these aren't very efficient or durable.
A ductless mini split has several indoor air units that can mount high up on the walls, each with its own blower fan but connected to a single outdoor unit. This is just as efficient and effective as central air conditioning and heat pumps, and requires professional installation.
Geothermal Heating and Cooling
This is a complex installation that truly pays off over the years. Geothermal heating and cooling uses an underground loop system to take advantage of the natural heat energy given off several feet underground. You'll need trenches dug up in the yard for the initial installation, but these should last for decades without problem. The indoor installation works like a conventional heat pump, except it's far more efficient and can save you lots of money over the years.
Johansen & Anderson Inc installs air conditioners in New Lenox, IL. Call us today!