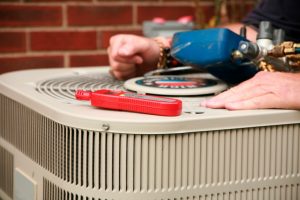 We all have the urge to procrastinate every now and again. But that rarely ever gets us the results we need. Waiting too long to repair your air conditioning system is no exception. As the warmer weather comes to a close, you need your air conditioner less and less, so it may not seem like such a big deal when you find it needs repair.
However, you owe it to yourself and your wallet to get that problem under control. Find out why the end of the season is a great time to repair your air conditioner, and what can go wrong if you wait, in the guide below. Call our air conditioning experts any time to get the repairs you need today!
Even small problems can be a big deal
When an air conditioner doesn't function quite the way it's supposed to, many people pass it off as being not so big a deal. After all, it's not completely broken down yet. What's the harm in letting it run? But some problems are a lot worse than they seem. The problem won't get any better on its own, and it's likely to get worse.
Let's say, for example, you only notice that temperatures in the home have increased slightly. This could mean anything from a dirty air filter to a broken motor. But if the problem has to do with leaky refrigerant, it could damage the compressor, a component that is extremely costly to replace.
You pay more the longer you wait
Most likely, the problem will exacerbate the longer you wait to get it repaired. That means that you may end up paying more when you do call in a technician. Besides, you may not think to call until next season, when it becomes urgent, and emergency AC repair typically comes at an extra cost.
In addition, attempting to run an air conditioner with a broken component uses a lot more energy. Your bills increase, and you spend more the longer you wait to repair it!
Next summer is an inconvenient time
When you wait until next summer for a repair, you bring about a huge inconvenience for yourself. First, you may not actually remember your air conditioner needs replacement until you go to the thermostat. That means that you may end up having to make an emergency call to a technician—at a higher cost! Don't wait until it's hot outside to replace your air conditioner when now is the perfect time.
Technicians are available now
Besides, technicians have greater availability right now, at the beginning of fall, than they will for most of the year. Technicians can help you go through the entire process, from finding the right size for your home, to knowing more about which efficiency rating is right for your home.
Call a technician today to get started on the process. Take time to find a reputable local company that you trust, and don't wait until you have a broken-down system in the middle of next summer!
When you need air conditioning in Plainfield, IL, you can count on Johansen & Anderson Inc.