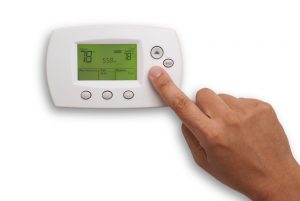 The thermostat you use to raise and lower the temperature of your home might work just fine. Thermostats often last decades without ever losing the ability to accurately sense temperature and make adjustments, but that doesn't mean you have the right thermostat for your home or lifestyle.
Upgrading your home's thermostat can help you save big, especially if you choose a smart Wi-Fi thermostat you can operate from the comfort of your couch, at the office, or while you're on vacation!
Thermostats last a long time…but they still age out
You might keep a thermostat for decades that still does its job just fine, accurately sensing the temperature and responding when you change the settings. Some thermostats need calibration from time to time, but it takes a while for them to give out completely.
Still, if you have an older model of thermostat, it can age out in a way that makes it more likely for you to spend more on heating and cooling than your neighbors. If you don't have a digital programmable thermostat or a smart Wi-Fi thermostat, you're missing out.
Why your thermostat may be dated
If you have a thermostat with a manual dial or lever that you have to carefully line up with tic marks on the unit, you're definitely missing out. First of all, it can be difficult to ensure you've really set the temperature where you want it, and that a couple of degrees of difference leads to discomfort or an overworked system that uses too much energy.
A digital programmable thermostat is a much more efficient option, allowing you to see the temperature displayed on a screen and make changes throughout the day or week in advance and on a regular schedule. That means you don't have to worry about forgetting to readjust the temperature when you leave the house.
Even your programmable thermostat may need an upgrade
Although you may have a programmable thermostat now, it might still not be the most effective pairing for your air conditioner and heater or for your lifestyle. We recommend setting the thermostat to about 78°F when you need cooling, and raising it by 5-10° when you're not home to save energy. That means you're bound to program different settings on different days.
But some programmable thermostats are limited in whether you can make changes from day to day and on the weekends. And if you don't keep regular hours, it's even more difficult to plan ahead. That's where a smart thermostat comes in.
The power of a smart Wi-Fi thermostat
Smart thermostats connect to the Wi-Fi in your home and automatically make adjustments according to the preferences you've displayed over the course of about a week. However, this feature of a learning thermostat is something you can edit, even from your office or while you're on vacation!
Forgot to raise the settings before heading out to a birthday party? Do it from your smart phone!
Returning home late from work and don't want to waste any money on cooling and empty home? Take a few seconds to delay the preprogrammed settings.
Worried that your home won't be cool enough when you come back from a trip? Check on the temperature and make changes from the airport!
You can make changes that help you to save energy and stay more comfortable all year.
Move your thermostat into the future. Contact Johansen & Anderson Inc for heating, air conditioning, and thermostat services in Lockport, IL.