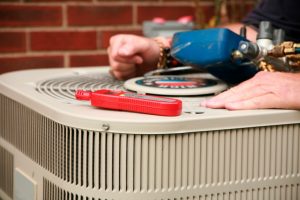 Spring is the season that embraces that "out with the old and in with the knew" saying. Don't let that spring-cleaning mindset only apply to the clutter in your attic or garage—bring that same mindset to your HVAC system!
Think back to last summer. It might seem distant (especially when punctuated by the long winter we had this year in Illinois) but the quality of your air conditioner during hot weather is important. If you struggled to keep your home cool, dry, or keep your HVAC bills low, now is a great time to sit back and think about the quality of your air conditioning system. If you're ready to upgrade your air conditioning in Frankfort, IL, contact our team. Call J&A today, Sleep-tight tonight!
Everything We Offer
We offer a wide variety of systems to keep you cool. We've listed the full range of them below.
Central Air Conditioning Systems
Central air conditioners are the most common type of air conditioner on the market. You could walk into almost any home in Frankfort and find a central air conditioner is the source of cooling in that home. Central air conditioners are great because they work from reliable technology, they're cost-effective, and they use the ductwork already in the home.
Ductless Systems
It's unlikely that you have a home without ductwork, but maybe you're in a home where your ductwork just doesn't cut it. A ductless mini split is the answer to your problems. A ductless mini split is a heat pump system that doesn't rely on ductwork, instead, it uses individual air handlers to heat or cool a home. This type of system is also a great option if you want to "zone" your home without retrofitting.
Heat Pumps
A heat pump is a climate control system that allows you to heat and cool your home from the same unit. These systems are energy-efficient, cost-effective, and easy on the earth. A lot of people don't consider a heat pump because they're unfamiliar with the system. Don't count it out—contact our team to learn more.
Dual Fuel Systems
Do you want a heat pump in your home, but you worry about winter temperatures? Heat pumps are great option but it's true that they can't perform as well in freezing conditions. We're no stranger to chilly temperatures in Illinois, so sometimes matching a heat pump with a furnace is a great option.
Geothermal
Geothermal systems are like heat pumps, but instead of using the air as the source of heating or cooling, they use the ground. The temperature of the earth even a few feet below the ground is more stable. You can rely on this segment of the earth to remain warmer in winter and cooler in summer. Geothermal systems are easy on the environment and your wallet too. If you're thinking about upgrading, don't count out the power of thermal energy!
Evaporative Coolers
You've probably heard of an evaporative cooler referred to as a "swamp cooler." These systems evaporate water to lower the temperature of a home. A lot of people think these systems are inferior when compared to other AC units, but the ones on the market now are more efficient than ever. Don't count this system out!
If you've read everything above but still aren't a step closer to choosing a new air conditioning unit, contact Johansen & Anderson Inc today to schedule an appointment.