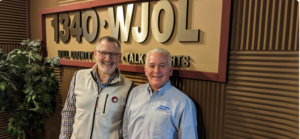 There are big changes coming to the ways that people heat and cool their homes. That's exactly what our very own Rick Cronholm discussed on radio station WJOL's recent podcast.
Rick joined host Scott Slocum and Andy Armstrong, the president of BASE Solutions, to discuss how changes implemented by the Inflation Reduction Act (IRA) are affecting HVAC manufacturers, contractors, and consumers. BASE Solutions are distributors of York products.
The tax credits and rebates that they discussed are of particular interest to homeowners. You can listen to the podcast to learn more about the tax incentives and point-of-sale rebates that are available when you have a new HVAC system installed.
In addition to the 250 million dollars the IRA has granted to Illinois homeowners, ComEd also has rebates available at the state level. Homeowners stand to save thousands on their purchases by combining these various offers!
If you've been thinking about upgrading, replacing, or installing a new furnace, heat pump, or air conditioner, there's no better time than the present. Contact us to learn how you can maximize the benefits of these various incentives. We're here to help.

Contact J&A today, Sleep-tight tonight!