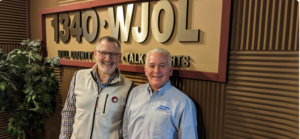 There are big changes coming to the ways that people heat and cool their homes. That's exactly what our very own Rick Cronholm discussed on radio station WJOL's recent podcast.
Rick joined host Scott Slocum and Andy Armstrong, the president of BASE Solutions, to discuss how changes implemented by the Inflation Reduction Act (IRA) are affecting HVAC manufacturers, contractors, and consumers. BASE Solutions are distributors of York products.
The tax credits and rebates that they discussed are of particular interest to homeowners. You can listen to the podcast to learn more about the tax incentives and point-of-sale rebates that are available when you have a new HVAC system installed.