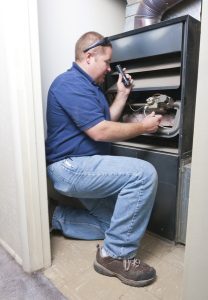 There's a long checklist of things that you have to worry about during the holiday season. You're probably already thinking of gifts you want to get for your loved ones, planning your holiday parties, and pulling out all those warm outer layers because the temperatures are cooling off.
If you're looking for heating services in Joliet, IL, you can schedule an appointment with our team. We know the care that you need for virtually any heating system that you may have in your home. You can trust us to perform the work you need. Call us when you want work that's going to keep you comfortable year-round.
The Importance of Maintenance Services
Are you wondering why you need maintenance services in your home? There are so many various benefits to your home's maintenance services. We'll get into the top benefits below.
Lowered Heating Cost: A system that you consistently tune-up is an efficient heating system. If you ensure that your heating system is always in the best shape, you'll save yourself a lot of money on operation costs. You can trust our team to perform the maintenance services that you need each fall.
Superior Comfort: Don't you want to feel assured that you have the best heating services possible throughout the winter? You can ensure that you have the best services thanks to the help of our team members. Our heating tune-ups will ensure that you have the best home comfort for the lowest price.
A Longer Heating Lifespan: Your heating system is an investment that you want to last for years to come. The average heater should last you around 10–15 years. If you want to ensure that you're getting the best heating you can, you're going to need to schedule heating maintenance services every fall.
Maintenance does nothing but benefit your home. Make sure you contact our team when you want heating services that will help your home comfort.
Our Maintenance Program
If you want to make sure that you always have the heating services that you need you can call our team to learn more about our maintenance program. Our maintenance program is called the Comfort Club Membership. We have two tiers available: Gold and Platinum.
Gold
An annual tune-up of heating and/or cooling system with a convenient reminder call
A 15% discount on future service repairs
A $25 annual equipment credit (Up to $250)
A priority emergency response
Regular inspections
A transferable agreement
Platinum
The platinum membership includes everything at the Gold level, plus…
No hassle maintenance
All service included
All parts included
A $50 annual equipment credit
We're not in the business of upselling at Johansen & Anderson Inc. so we're not going to try to force you into a maintenance plan that's not for you. This is why we have two tiers of maintenance. You can trust our professionals to perform the best services and provide the finest maintenance. Contact us today.
Call Johansen & Anderson Inc. to schedule an appointment for your heating tune-up. We'll keep your home in great shape this winter.