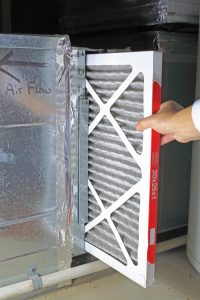 If someone were to ask you what the most important part of your air conditioning system is, what would you answer? For the vast majority of people, the answer is something like "the outdoor unit," or even "the vents" if you're thinking outside the box. We don't always like to play favorites when it comes to an air conditioning system, but your home's air filter is incredibly important.
If you're looking for air conditioning in New Lennox, IL, make sure you contact our professionals. We can instruct you on how to get the most from your air conditioner through great air conditioner filter practices and quality air conditioner care. Contact our professionals at the first sign of trouble and we can be there in a flash for your home.
What Your Air Filter Does
Your air conditioner's air filter is one of those things that's often misunderstood. The the filter's job isn't to filter your air. Instead, the job of your air conditioner is to keep your air conditioner clean. Your air conditioner's filter keeps dust, dirt, grime and other debris at bay while your air conditioner functions.
If you let your home's air filter clog up, it's only going to make the operation of your air conditioner a lot harder. Every home is different, but if you need a general rule of thumb, you can just change your HVAC system's filter at least once a season. This will help your home stay clean.
A Few Signs That You Need to Change Yours
So are you unsure when you need to change your home's air filter? It's not always straightforward. Instead, you might need a few pointers. That's why we're here—contact our team if you notice any of these signs of trouble:
Your Home is Dusty: Is your home just always covered in dust? If you notice that your furniture, walls, or vents are dusty, it's a telltale sign that you have a bad filter. Clogged filters just can't do their job so they can quickly contribute to poor indoor air quality. If you don't want dust to accumulate in these spaces anymore, make sure you contact our professionals.
You Have Exacerbated Allergy Symptoms: If you or anyone else in your home has exacerbated allergy or respiratory symptoms, your indoor air quality could be the culprit. The first step to take when you're trying to find the source is to start with your home's air filter. A new filter will help you trap the dust and keep your allergies at bay.
You Have Trouble Cooling Your Home: Yes, you read that correctly. Your air filter can negatively affect the function of your home's air conditioner. Make sure you change or clean your filter regularly to avoid these issues.
Some air filters simply need cleaning while others need replacement. If you're looking for a team that can guide you through the process and give you the best advice available, you can contact our air conditioning technicians.
Contact Johansen & Anderson Inc today to schedule an appointment with our professional team of air conditioning experts.