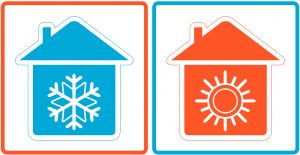 A long summer here in Orland Park definitely puts your air conditioner to the test. Before you shift your focus from cooling to heating this fall, make sure you square away your air conditioning unit and get ready for next year by getting any repairs you may need done. Service now can save you a headache in the future. If you need reliable air conditioning repair in Orland Park, contact our team at Johansen & Anderson Inc. for comprehensive service.
How AC Repairs Help
Performing much-needed air conditioning repairs is the best way to revive a sluggish system after summer. Always schedule your air conditioning repairs as soon as possible regardless of the season. Here's some reasons why…
They Save You Money
When you stay diligent about servicing your air conditioning, you're ensuring that your system is always running at peak efficiency levels. A system that remains efficient will save you money while a system that's serviced infrequently will run poorly and must work against the various obstacles that force the system to work harder while providing less comfort. Getting prompt repairs also saves you money because you'll sidestep emergency repairs. Emergency repairs are costly because of their urgency and advanced stage. If you can address minor problems before they become major, your wallet will thank you.
They Increase Your System's Lifetime
The average air conditioner should last you anywhere from 10–15 years. If you aren't routinely arranging for service for your system, then you're decreasing the lifespan. The lifespan dwindles because underserved parts that are old, dirty, or misaligned force your system to work harder to cool your home. All these obstacles cause your system stress which damages the unit over time. Decreasing the lifespan of a hefty investment like your air conditioning is a senseless waste of money that's easily avoidable with annual servicing. At Johansen & Anderson Inc., we have a maintenance program so that we can detect any problems with your system and repair them on the spot. We'll even call you with a reminder to schedule.
Signs Your AC Needs a Boost
Are you wondering what constitutes a need for repairs? If you're experiencing any of these symptoms, it's a good idea to call.
Your home never cooled off the way you wanted it to this summer.
There are odd sounds coming from your system.
You've noticed any type of leaking or cracking.
You experience significant uneven heating and cooling throughout your home.
You're experiencing low airflow.
Why Us?
At Johansen & Anderson, Inc. we've served Orland Park and all the surrounding areas for 70 successful years. We attribute our success to our amazing customers and the commitment and diligence of our employees. Not only do we ensure that our technicians understand the intricacies of HVAC systems, we make sure that they understand the unique needs of our Illinois residents. HVAC services aren't one-size-fits all and we always respect that. No matter what your repair needs are we can service you!
If you're thinking of getting AC repairs done, contact our reliable technicians to schedule service.