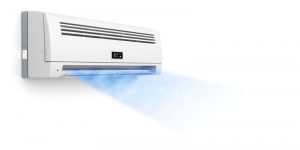 If you've been looking around for a new air conditioner or heat pump installation for your home, you've probably run across the option for installing a ductless mini split heat pump. There are a number of excellent benefits to installing a ductless air conditioning/heating system. If you're planning to build a new home or are renovating your current home, a ductless system is one of the best choices available because it removes the need to find room for ducts.
But you may have hesitated about using a ductless mini split because you aren't sure if it can actually keep your home cool in summer and warm in winter. We understand why you might feel reluctant: going from years of using a conventional central heating and cooling system that uses ducts to a system that runs from smaller air handlers posted in different rooms sounds like it's a risk. Can a ductless mini split really keep up with the weather extremes here in Illinois?
Yes, A Ductless System Can Work, Provided …
Here's a simple answer: any type of heating and cooling system can potentially be the wrong one for a home and fail to provide the comfort it's supposed to. If a conventional ducted AC and heater is not accurately sized to meet a home's requirements, it won't provide comfort.
A ductless mini split that is correctly sized and laid out for a house should be able to handle the comfort needs of a household as well as a ducted system. Installers will decide how many individual handlers are necessary to reach all the spots of a home that need conditioning, and how many outdoor cabinets are necessary to power the number of indoors units. (Most outdoor cabinets can power 4 to 8 air handler units, depending on the model.)
As with any heat pump, a ductless system mini split system must also be suited to temperature conditions. Extremely cold weather can cause a heat pump to lose energy efficiency when in heating mode. However, the current level of heat pump technology can handle most winter conditions without suffering a severe efficiency drop.
Let Professionals Help You with New AC and Heating Installations
Making a change to ductless heating and cooling is something that requires balancing many different factors. That's why you should have professionals assist you with making the decision. Our technicians are experienced with ductless and standard heat pump as well as other ACs and heaters, and we can help determine whether going with a ductless mini split is the right one for your needs.
Ductless mini splits cost less for installation than standard central air conditioners. However, they aren't a cheap installation, so this is another reason to be sure you talk to us first before you make a choice about going with ductless mini splits. We can handle all the Shorewood, IL, HVAC services your house may need, starting with a great new air conditioning installation—whatever type of system is best suited to your household and current budget.
Johansen & Anderson Inc offers 24-hour, 365 day service with quick response times—and can have same-day change-outs on most occasions.